Syl & Ric - Folk Rock band

Audiences of all ages and styles find a quick connection to the lyrics, sound, and overall energy that Syl & Ric conveys in the studio and during live performances. "Syl & Ric" has been revered as an original and unique duo who has the ability to create music that inspires the thoughts and dreams of listeners and onlookers.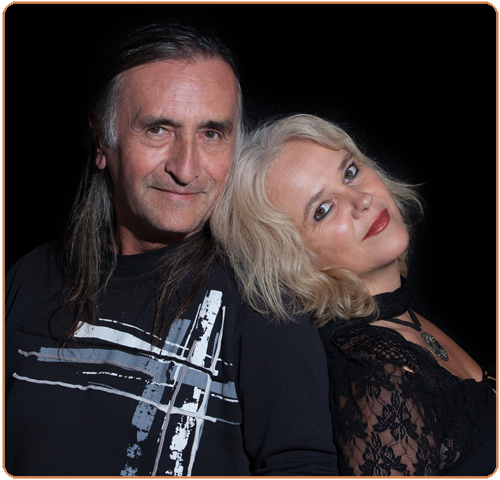 "Syl & Ric" is a unique musical duo and singer-songwriters based in Marbella (Costa del Sol -Spain). Playing a fusion of modern & classic cover versions (English, American, French and Spanish songs) as well as original songs, the duo mix stunning lead vocals with acoustic guitars, harmonica & recorder flutes. They can play with or without (their home-made) backing tracks.

With original and often innovative arrangements of popular songs, professional musicians Syl Chad (FR) and Ric Meric (FR) mix latin-influenced music with jazz, folk, rock & roll, blues, and pop, in their own unique 'acoustic' style!

Their genre is Folk Rock Latin fusion with a touch of French romance,
with a mix of styles and dynamics... from ballads, to up-tempo songs!
Syl Chad, the lead singer, has a colourful timbre of voice: with clear and ringing in its upper reaches, with gravelly and profound low notes. Ric Meric plays the lead guitar and the bass when recording in studio. His refreshing guitar solos are a blend of Carlos Santana and Django Reinhardt styles, with a pinch of Indian sitar.

In 2013, the couple started to write their own songs (mostly in English). Two albums "The Morning Light" and "Smoke and Mirrors" are available for sell on this website, on Cd Baby, and on all the best retailers stores and music websites.
In 2014-15, an unexpected new wave of creativity brought our third album "Fire and Water", with 18 original lyric-driven songs. It is currently being mastered.
In May 2015, Syl & Ric won the Akademia Music Award for Best Song in the Folk/Rock category with the song DON'T FORGET TO SMILE
(cd "Smoke and Mirrors"):
'Syl & Ric serve up a seventies-era sunflower of a song, imbued with all the flowery charm of that long-vanished island of unsardonic art.'


In 2015, the couple kept on writing and recording songs for their 3rd album in English called "Fire and Water". In June 2015, they travelled to Quebec, Canada and they creativity was triggered again and they "converted" 13 songs into French language to record "Un peu d'Amour".

Syl & Ric have been touring in Nashville,TN during summer 2015 and their music has been warmly welcomed there.

Syl & Ric can play both acoustic and electric, depending on the mood of the event and your personal tastes. Their tribute to Bob Dylan is not to be missed, where they capture the spirit of this great poet!

As international European artists, they sing in English, Spanish & French.


Visit and Like their facebook page to be kept posted, or subscribe to the Newsletter.

Download our Brochures: Press Kits, Lyrics, Cover repertoire.
If you'd like to book a show or know more about Syl & Ric, please contact them by email or phone: (+34) 669 113 486